Date/Time
Date(s) - October 21, 2023
5:30 pm - 9:00 pm
Description
A new full-length biography of Brookville's famous aviator, Lewis Earle Sandt, will be the featured program at the annual meeting of the Jefferson County Historical Society to be held on October 21 at Pinecrest Country Club. Written by Pittsburgh author Paul Michael Beck, "Earle of the Air" is a lavishly illustrated biography of this national aviation pioneer who was born and made his home in Brookville early in the 20th century.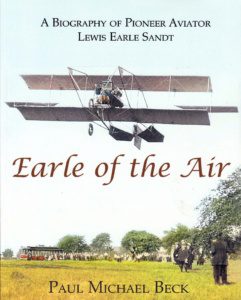 Sandt's flying career began with instruction at the Glenn Curtiss flying school in Hammondsport, New York in 1911. For the next 18 months he grew to be a noted barnstormer, flying exhibitions throughout the entire region. He made the first flight over the city of Pittsburgh, made a groundbreaking flight from Brookville to Punxsutawney, and was the first American to make an international flight when he flew from Erie across the Lake to Long Point, Ontario, in February 1912, 50 years to the day before John Glenn's epic flight.
He was heralded by newspapers, far and wide, and his flights always were guaranteed to draw a huge crowd. He died as a result of a crash in Grove City, Pennsylvania in June 1913, at the age of 26.
The JCHS annual  dinner is open to the public. Attendees may arrive at 5:30 for a social hour and open bar, with a dinner and the program to follow.
The evening will feature a silent auction and very brief business session, including the presentation of several awards and the election of new and returning board members.
Pinecrest Country Club is handicap-accessible, and the cost of the event is $30.00. To register, contact Kat Lyons at the JCHS by October 6 at 814–849-0077 or [email protected]; checks can be mailed to her at the Historical Society at PO Box 51, Brookville, PA, 15825. Click here to download and print an order form.
Or register here: