Jefferson County History Center announces a newly acquired two-story facility from the Brookville Borough that will be renovated and used to properly hold and preserve our unique collectibles, archives, and county records. This endeavor will permit us to consolidate all of our historical society collections and archives plus the Jefferson County archives from the multiple locations where they are currently housed into one all-inclusive facility
The new building will provide approximately 6,100 square feet of secure and climate controlled space, more than doubling the capacity of our two existing archive buildings. A conservation and collections care area will allow adequate preparation for storing items upon intake. The lab will be equipped with computers, scanners, and photo stations along with equipment for cleaning and proper archival storage containers. We will have a larger space to assemble exhibits. A research room will provide workspace for those wanting to do research in our growing collections and archives. The public can now access the County Tax Records Books that we store for the Jefferson County Courthouse. Please contact JCHC at 814-849-0077 to set an appointment Other County Records will be made available as we complete our move from our prior archives buildings to the new archives facility.
The building is currently 75% done, with the first floor complete, including an office and research room. The existing restroom will become an ADA accessible restroom. The second floor is in the final steps of renovation, including a Board Meeting Room. The parking lot is to be completed in spring. We are planning a Grand Opening celebration for early summer.
JCHS, as the official designated County Historical Society, is the guardian of Jefferson County's Archives. What does this mean? We hold and protect the County Record Books, including Courthouse Records, Tax Record Books, Land Sale Books and Naturalization Books (dating back to the 1800s). Other materials include diaries, letters, photographs, yearbooks, and maps. Visitors are welcome to research our archives and utilize the resources in our Research Library. This could be anything from transcripts from a murder trial in 1901 to what business occupied a specific building in the 1800s, to panoramic group photos of schoolhouse classmates, prior businesses and their employees.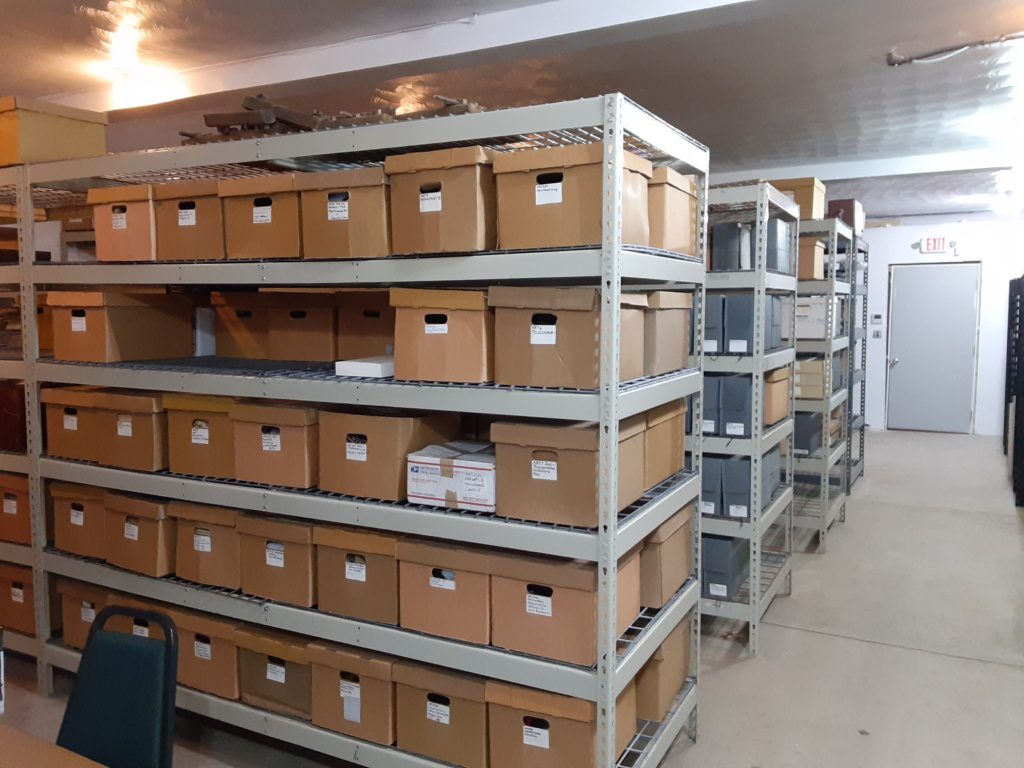 Business Archives
Many businesses utilize our archive facilities to store their records, artifacts, and history. Brookville Equipment utilized our facilities to research old newspaper articles, photographs, and documents to create a book focusing on the history of their business for marketing purposes. An original early 1900s armoire from A.D. Deemer Furniture of Brookville is in our storage. Sanborn Fire Insurance Maps are on file for anyone interested in researching towns, roads, and businesses in the 19th century. We also have a cadre of photos recording the ever-changing Main Street of our communities and evolution of businesses around the county.
Family History
Family history is an important part of establishing Jefferson County. Genealogies and family collections with a connection to Jefferson County are a unique addition to our archives and library.  Photos tell a story about the way of life in the past, including housing and architecture, antique tools and farming and industrial machinery.
Tracing family histories creates genealogies, putting a face to a name. Our archives holds vintage clothing which may include anything from an uncle's military uniform to Great-Grandma's wedding dress from the 1800s.  We store the Stiver Collection, which is a complete reproduction Victorian wardrobe – costumes that can be loaned out for Victorian events. We also preserve and store county heirloom handmade quilts from various families and church groups of the 19th century.
County Records, Business Archives, and Family Heirlooms make up a large part of our collections. These items of historical value are exciting as they tell a story. Your story.
Your contribution is important to us!
Why is this important? With your support, we are able to…
Preserve and protect the County's artifacts and prepare exhibits in an efficient collections care area
Properly store Jefferson County courthouse records
Provide a research room for visitors and access to the archives via staff assistance
Provide a community hub: public use grounds including JCHC sponsored events
Offer internships to college students and learning opportunities for high school students
Special Privileges & Benefits
Business Bronze Patron
Tour of the new facility
Invitation to JCHC events on the grounds
Certificate of Appreciation
1-Year Business Membership
Business Silver Patron  In addition to the above:
Permanent Acknowledgement (plaque)
Invitation to the private Gala Reception
Business Gold Patron  In addition to the above:
2-Year Business Membership
Special commemorative gift
Business Saint Patron  In addition to the above:
JCHS Lifetime Business Membership
Special commemorative gift
Plaque to display at your business
Please join us and show appreciation to the following generous contributors. None of our efforts would be possible without support from the community!
Corsica Borough
Matson Insurance
McMullen-Snyder American Legion Post #392
Memory of Connie Burns
Memory of the Roll Family, Brookville
Miller and Sons Landscaping
Wayne Road Storage
Dale Adam
Brian M Ames
Darr & Carole Briggs
Dwayne & Kathaleen Brooks
Kay Buffington
Ken & Cheryl Burkett
Tim & Colleen Cooney
Donald & Kimberly Demor
Betty Elza
Jim Farley
Carol Hollobaugh
Thomas & Virginia Lesher
Mark Lussky
Jack Neale
Douglas Powell
Arlene Rampson
Kathy Reimer
Wendy Reynolds
Samuel & Adrianna Rubino
Doug Scott
James Sterrett
Bruce Taylor
David & Becky Yates